Tomasi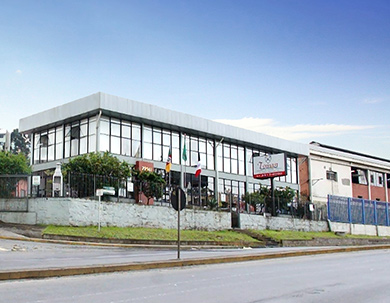 The idea of setting up a company was idealized by two partners who wanted to be competitors of Churrasqueiras Caxias Ltda that was the only company that was taking over the market.
Max Indústria Metalúrgica Ltda. founders worked for a long time at Churrasqueiras Caxias Ltda. what provided them enough knowledge to manufacture the products.
In 1979 the company was searching for product diversification so it started to manufacture brass and stainless steel signboards to offer to that market.
In 1981, the company started to manufacture brass plates for plugs, casted bronze and aluminum numbers, commemorative plates, carts for open market and casting for third parts.
In 1983, the company started to use a registered brand in order to make its products different from the competitors'. The name of the brand: Tomasi.
On June 15, 1987, Roberto Tomasi, Evandro Tomasi and Sandro Roberto Tomasi directed the company. The partners kept the registered brand and carried on manufacturing the traditional products of the company.
In order to diversify the line of products a little more taking advantage of the Brazilian worry to substitute the charcoal that was an expensive and rare product in that time besides being reinforced concept by IBAMA (Instituto Nacional do Meio Ambiente), MAX INDÚSTRIA METALÚRGICA LTDA started to produce industrial gas rotating grills to restaurants and grill restaurants that were products with heavier impact, higher value and better finishing. The market accepted the brand immediately what influenced strongly the company's system of work in order to meet the product demand.
Launching the industrial gas rotating grill forced the company to adopt the serial system of production changing dramatically its previous system that was only when products were ordered. The serial system was a more agile and easier way that improved product quality and TOMASI brand image in the national market.
In 1998, the company moved to a 6.200 m² area and to a building of 2.800 m², where its clients could have a better service. In the same year, a new partner joined the group, Rafael Tomasi.
Nowadays, besides manufacturing grills, the company also offers other equipments for food preparing, transforming and conservation, as semi industrial stoves, chicken roaster, industrial mixers, thermical carts "buffet" type, commercial refrigerators, machines for pasta and others.